You Sign What You See
By using QR code transmissions, we have eliminated potential malware infiltration risks and delivered a level of transparency that just isn't possible with Bluetooth or USB.
Learn how you can verify each and every transmission that comes into or out of the Keystone.
Learn More
EAL 5+ Secure Element
A proprietary bank-grade Secure Element ensures your private keys never leave the Keystone. The Secure Element generates a true random number for your private keys and is vital to ensuring your crypto assets are stored in the safest way possible. Our BIP32, BIP39, and BIP44 compliant firmware is also open source.
Learn More
Fingerprint Sensor
Unlock the device and sign transactions in public with the fingerprint sensor.
Learn More
Anti-Tamper Self-Destruct Mechanism
"An anti-tamper self-destruct mechanism will wipe your private keys upon detection of disassembly if your Keystone is lost or stolen."
Learn More
Coin Support
BTC, ETH, BCH, DASH, LTC, TRX, USDT, DOT, KSM and XRP as well as ETH, and TRX tokens.

Specifications
In the Box
Keystone Pro, AAA battery holder, rechargeable battery, charging cable.
Dimension & Weight
Size: 112mm x 65mm x 18mm Weight: 115 g (without batteries)
Material
Fiberglass
Screen
4" touchscreen
Coin Support
View our full list supported coins, tokens, and staking
What's in the box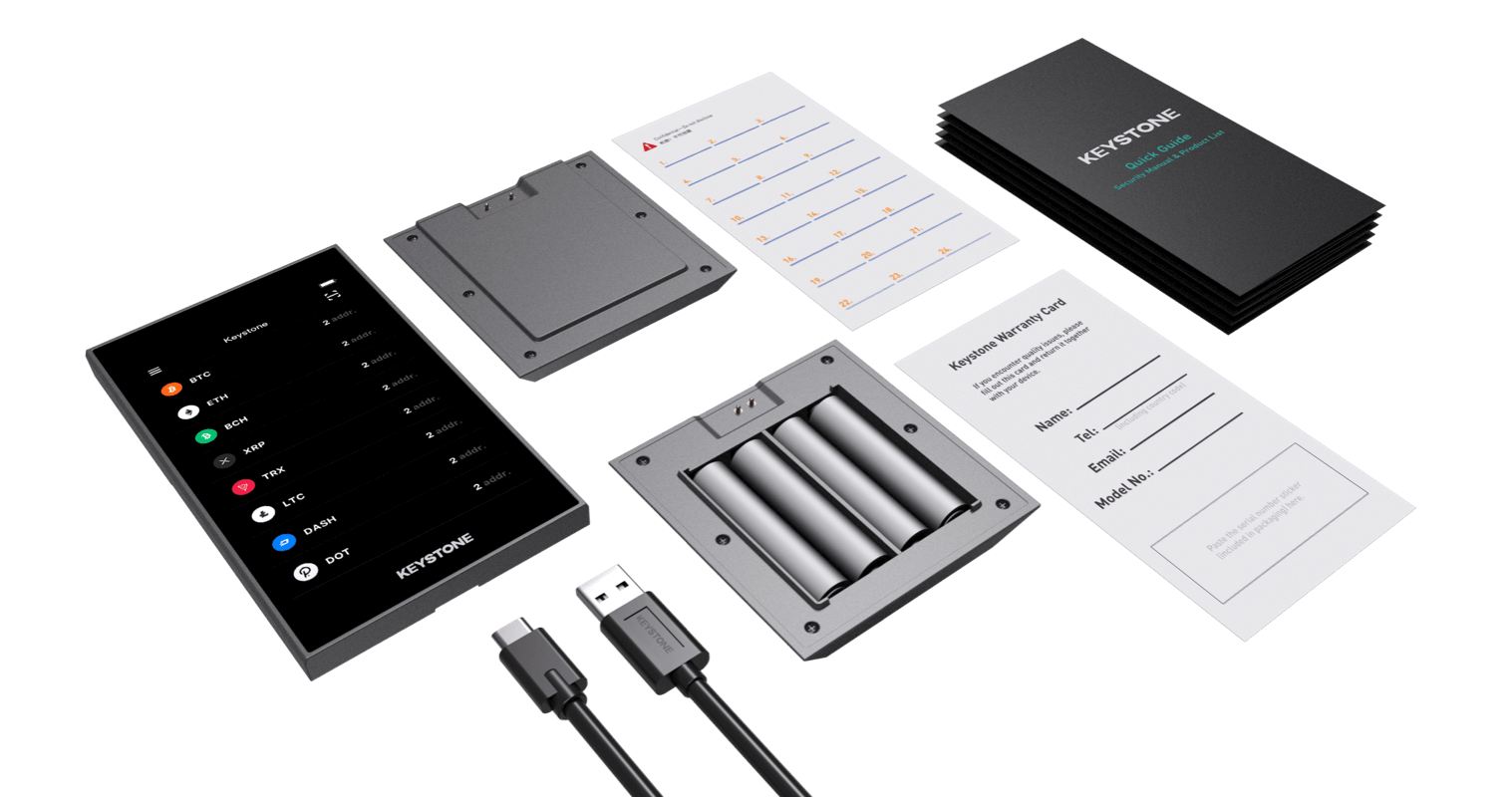 Easy Recovery
If you lose or break your Keystone, all your assets can be easily recovered with your recovery phrase

The Keystone Tablet is a fire and waterproof solution for storing your recovery phrase, made entirely of 304-grade stainless steel. Compatible with any hardware or software BIP39 wallet.
Buy Now